How to Properly Mulch your Loudoun Landscape
April 16, 2015

Categories:

Tags:
Mulch: The Gardener's Answer to Mother Nature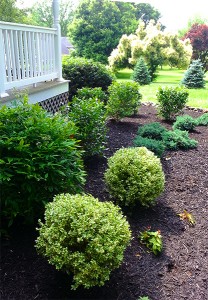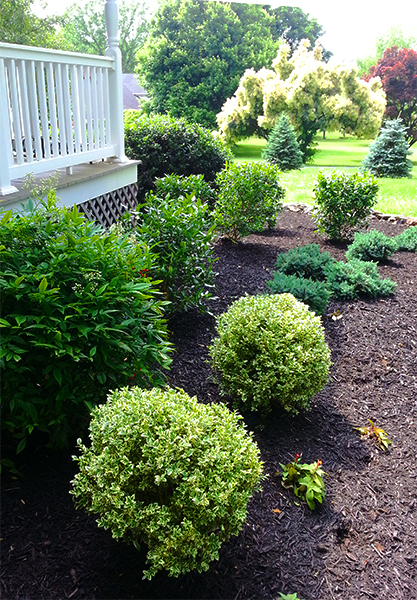 Spring is in the air and with it the scent of mulch…
It seems that every homeowner is mulching beds in Loudoun County but are they mulching right? Property Services Landscape of Loudoun County Virginia is here to provide the following tips on how to mulch the right way.
What is Mulch?
According to http://gardening.about.com/od/gardenmaintenance/a/Mulch.htm
"Mulch is any type of material that is spread or laid over the surface of the soil as a covering. It is used to retain moisture in the soil, suppress weeds, keep the soil cool and make the garden bed look more attractive."
We are often asked why mulching is necessary in your Leesburg or Ashburn backyard but not in nature. And that's a good question. The answer lies in nature's ability to protect itself. Think of a wooded area, and the base of a tree or plant, and what lies above their roots: decomposing leaves and other organic material and living organisms whose job it is to replenish the soil. Now imagine how neat and well-cared for we like our gardens in the suburbs of Northern Virginia. How piled up organic debris would look sloppy and unkempt. Mulch is the gardener's answer to Mother Nature and a way to keep your gardens looking beautiful. Additionally, the soil in the suburbs, especially that in Loudoun County is nutrient deprived and a top layer of mulch is just what the soil needs to maintain optimal growth for trees, flowering plants and shrubs.
(See our blog about your Loudoun County Garden for a definition of ultisol, the soil typical of Northern Virginina Landscapes: http://propertyserviceslandscape.com/news/your-loudoun-county-garden/)
The Benefits of Mulch:
• Provides a protective barrier for roots of trees, shrubs and flowers in extreme temperatures
• Prevents moisture loss from the soil caused by evaporation
• Stymies the growth of unwanted weeds
• Improves the soil quality and fertility as it decomposes
• Increases the aeration of the soil, or the ability for the soil to breathe
• Hinders plant disease
• Makes any garden look well-tended
Mulch comes in many varieties. The two most prevalent are organic and inorganic mulch. Organic mulch is comprised of hardwood and softwood bark, wood chips, cocoa leaves, compost mixes and materials derived from plants. Inorganic mulch is comprised of pulverized rubber, stones, lava rock and other inorganic materials.
The Benefits of Organic Mulch over Inorganic Mulch:
At Property Services Landscape, Leesburg's premier landscaping company, we only use organic mulch. It is true that inorganic mulch does not decompose, or needs to replenished, as often as organic mulch but it also does not improve soil quality, or provide much needed nutrients to the soil. As organic mulch decomposes it improves soil quality and fertility providing the perfect garden beds for optimal growth of flowering plants, shrubs and trees.
Can I Mulch the wrong way?
Yes, you can and improper mulching can cause harm to your Loudoun landscape.
Here is the Golden Rule of Mulching: Do not "over-mulch" or you will suppress the ability of your trees and gardens to grow.
Do:
• Attain the right mulching depth of 2 to 4 inches
• Spread an even level on garden beds
Don't:
• Over-mulch at the base of trees
• Replace mulch until it has begun to decompose or the benefits of mulching will be negated
If mulching is performed incorrectly it can trap too much moisture in the soil and cause root rot and the eventual demise of the plant. Improper mulching can also attract harmful insects and fungi to your plants.
If you still have questions, or would rather spend the day enjoying the landscape of Loudoun, rather than working on it, give Brian Wedemeyer, owner of Property Services Landscape a call for a free estimate, 703-771-8176 or hit us up on our contact page: http://propertyserviceslandscape.com/contact. Learn about our Leesburg area Lawn Mowing Services.