Planning Your Hardscaping Project
Creating an attractive area surrounding your home will be enjoyed for many years. Proper hardscape planning will ensure that it can be enjoys with as little maintenance as possible, while retaining the look and feel that was initially designed. To begin, an overall design must be created that takes into account several factors. These include features used, the types of hardscape materials desired, one's budget and the natural features of the area surrounding the home (or business).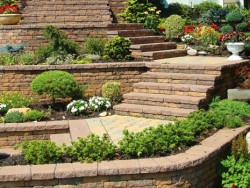 Property Service Landscape has designed and constructed high quality patios, walkways, retaining walls and flower beds for many years. We offer not only professional consulting, but we will help guide you through the entire process of material choice (pavers, brick, stone, concrete and more). Ensuring terrific landscape design will provide you with the ability to enjoy your property in the best way possible. Learn more about our Loudoun area Hardscaping Design and Installation Services.