That Perfect Lawn
Oh, that perfect, lush, green lawn! Who doesn't want one?
Your Leesburg Lawn Care Experts at Property Services Landscape knows a thing or two about how to get that verdant, healthy lawn because Brian Wedemeyer, owner and operator began mowing lawns in the Leesburg area over twenty years ago. So if you want that "perfect lawn," you've come to the right place. There are four things to consider:
• Mowing your lawn
• Feeding your lawn
• Watering your lawn
• Controlling weed growth
Sounds basic enough? But have you ever noticed that one neighbor whose lawn is perfect? He is either spending all weekend long taking care of his lawn or using a professional landscaping service. Because a perfect lawn requires perfect attention and care. Especially in Leesburg and the surrounding towns of Northern Virginia because our soil, Ultisol, is particularly fickle.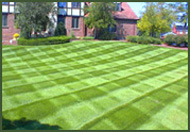 Let's get down to the basics of proper lawn care in Loudoun County, shall we?
Mowing your Loudoun Lawn:
How often and at what blade level you should be mowing your lawn depends on the time of year. In springtime, a basic rule is to mow your lawn once a week, with the blades at their highest setting. As the weather gets warmer and the grass comes in thicker, a schedule of two times a week of lawn mowing is recommended. And don't forget to gradually lower the blades of the lawnmower to accommodate the thicker and longer grass of your Loudoun Lawn. As autumn rolls around return to a once a week lawn mowing schedule and gradually bring the blades of your lawn mower back to their highest setting. A "mulching mower," is the best way to return nutrients to your lawn, and avoid dealing with grass clippings. A mulching mower, like the ones used at Property Services Landscape, chops the grass into fine pieces that are returned to your Loudoun Lawn and act as a natural fertilizer.
Watering your Loudoun Lawn:
Always water your lawn in the early morning or late evening. You can tell when your lawn needs water because it will lose its "spring," when stepped upon. Newly laid turf will require regular weekly watering but established lawns should not need watering save in significant dry spells.
Feeding your Loudoun Lawn:
The soil of Loudoun County is Ultisol and requires regular fertilization as it is lacking in key nutrients and is high in iron oxide. This is what gives the soil its red, clay appearance. For more information on Ultisol and how to keep your Loudoun Garden thriving, click here: http://propertyserviceslandscape.com/news/your-loudoun-county-garden/
At Property Services Landscape we recommend a six-round fertilization program that begins in March and ends in the fall. For a detailed description of our fertilization program click here:
http://propertyserviceslandscape.com/turf-renovation-aeration/
If you choose to fertilize your own lawn, Property Services Landscape recommends you use an organic fertilizer from a local nursery and follow the instructions on the bag. PSL has had great success with the below nurseries:
http://www.bluemountnursery.com/
https://www.meadowsfarms.com/
http://countryspringswholesalenursery.com/leesburg/
http://www.southridingnurseries.com/
Weeding your Loudoun Lawn:
At Property Services Landscape we incorporate weed control into our Turf Renovation program. Specifically, a pre-emergent herbicide to prevent crabgrass, a pre-emergent and broadleaf weed application, grub control and lime application. If you choose to apply a weed killer to your lawn it should be done in spring, summer and autumn. Lime application should be administered based on your lawns Ph level.
Any questions? Please hit up Property Services Landscape and we will be happy to assist you: http://propertyserviceslandscape.com/contact. Learn about our Ashburn and Lansdowne area Lawn Mowing Services.
You can also contact us on our Facebook page https://www.facebook.com/PropertyServicesLandscape.
Here's to that perfect Loudoun Lawn!