Want A Healthy Lawn?
July 31, 2015

Categories:
Here's How:
At Property Services Landscape of Leesburg Virginia, Loudoun's Premier Landscaping Company, specializing in lawn mowing, landscaping, hardscaping and turf renovation we are gearing up for our fall turf renovation program.
Our fall turf renovation program consists of:
• Round 4 Fertilization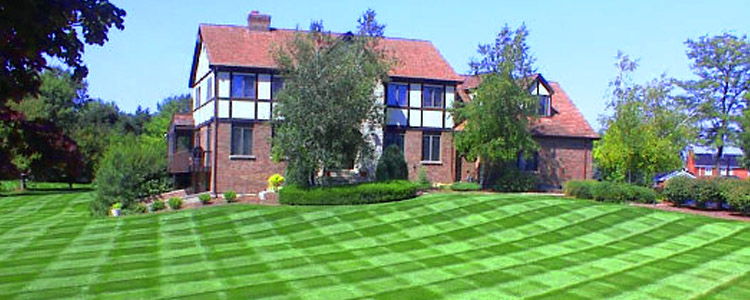 • Core Aeration
• Dethatching
• Topdressing
• Overseeding
Round 4 Fertilization:
It is important to fertilize your lawn all year long. Think of it as feeding your lawn. A properly fed lawn is healthier. This means it has a more robust root system to resist extreme temperatures, drought, foot traffic and lawn mowing. And while it is important to feed your lawn throughout the year, many lawn experts agree that the fall fertilization is the most important fertilization treatment. Fall is ideal weather for a healthy lawn; warm days, cool nights, morning dew and sufficient rainfall, all serve for a healthy, lush, green lawn. In essence, your Leesburg or Purcellville Lawn is at its most opportune time to soak up all those nutrients from the fertilization. And the more it soaks up, the better prepared it is for the winter ahead.
Core Aeration:
Summer can be tough on your Loudoun Lawn. Core Aeration provides a pathway for oxygen, nutrients and water to travel to the root zone. This treatment allows your lawn to return to a fresh, strong lawn for fall and the next spring. Core Aeration is particularly important in Northern Virginia due to type of soil present. The soil is classified as Ultisol and is deplete of nutrients, and high in iron oxide, making it difficult to achieve a lush, green lawn without the proper treatment.
Dethatching:
As the summer passes, thatch accumulates in your lawn. Our dethatching program alleviates built up thatch and compaction in your lawn creating more pathways for the nutrients that fertilization provides.
Topdressing:
Fall is a great time to add a fresh layer of topdressing, an organic material comprised of organic compro and topsoil. This influx of nutrients primes your Sterling or Ashburn Lawn for overseeding.
Overseeding:
Your lawn needs seeds to return next spring. The perfect time for overseeding is after fertilization, core aeration and dethatching has been completed. Overseeding will ensure that your lawn returns thick and lush and bereft of bare spots.
So, if your goal is the much sought after "perfect lawn" for this fall and spring and summer and the years to come, now is the time to schedule your fall turf renovation. Contact, Brian Wedemeyer, of Property Services Landscape, and feed your lawn the nutrients it needs! Read about our Loudoun area Lawn Mowing Services.