About Property Services Landscape
Since 1969: Serving the Loudoun County area with professional lawn care, landscaping and mowing services.
In the Beginning
Property Services was started in 1969 and provided a variety of landscape and general maintenance services to primarily commercial clients.
Since then, company president Brian Wedemeyer has shifted the focus from commercial to residential. Today, we specialize in providing personalized service to commercial and residential landscape and lawn service clients throughout the Loudoun County area.
Property Services has served Loudoun County since 1969.
We currently serve approximately 500 residential and commercial clients in the Leesburg, Ashburn and western Loudoun areas.
Company President Brian Wedemeyer has owned and operated the business for the past 20 years. He oversees a staff of highly trained professionals, some of whom have been with the company for more than 10 years.
Property Services foremen each specialize in one of three areas: Lawn maintenance; fertilizer and integrated pest management programs; and landscape maintenance and installation.
Lawn mowing to patios and walkways.
Property Services can handle all your lawn and landscape needs!
Services offered include: landscaping, lawn mowing, fertilizer programs, mulching, pruning, weeding, landscape design, planting, patios, walkways, retaining walls, landscape lighting, grading, hydro-seeding, brush clearing, aeration, turf renovation and much more.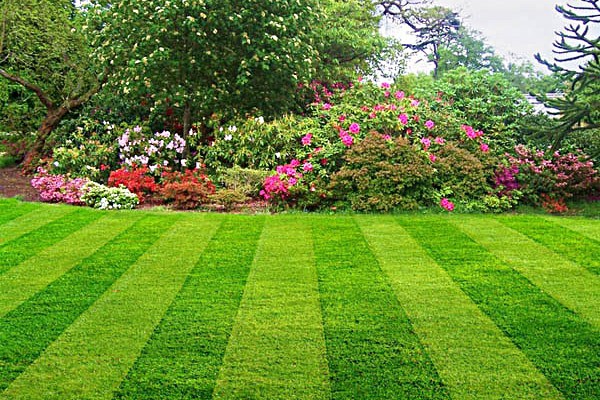 Serving Leesburg, Ashburn, Purcellville, Hamilton, Aldie, Bluemont, Broadlands, Hillsboro, Lansdowne, Lincoln, Lovettsville, Middleburg, Philomont, Round Hill, Upperville, Waterford, and surrounding northern Virginia areas.
Brian Wedemeyer, Owner and Operator of Property Services Landscape, was showcased in "On The Banks," magazine, a publication for The Community of River Creek. Here is his interview:
1) Where did you grow up? How long have you lived in the area? Tell us about your family?
I grew up right here in Leesburg and have lived here my whole life. My family came to Leesburg in 1974 and as such I have had the opportunity to watch this town grow from a small town to a thriving community. In 1995 I bought my family home that I was raised in, and sold it in 2000 to build a home out in the country, which I share with my beautiful daughter, Laurel.
2) Tell us about the events that led up to where you are now? What is your business and how/why did you start the business?
After high school I spent some time traveling the country. When I returned, my Dad, who started Property Services Landscape, back in 1969, said to me, "I've got an old truck and a mower if you want them. I'm gonna retire." So I took the truck and the mower and started mowing yards in the Leesburg Area. And now…twenty-two years later, Property Services Landscape has a fleet of thirteen trucks and the latest in landscaping equipment and fourteen employees. We have the privilege of maintaining some of the best lawns in the Leesburg area, like River Creek, where we serve over 300 customers.
3) What is unique about your business (what sets you a part from the rest)?
I am the owner/operator and personally oversee every job. I like to get to know my customers; to know what they want, what they don't, how they use their outdoor space, who's in that space…and that's how we create Landscaping that truly fits their lifestyle.
The other thing about Property Service Landscape is that we're tried and true. We've been here since 1969; we'll be here next year and the years after that. Most of my team has been with me for more than fifteen years and that's a rare thing in this business, which can, let's face it, be transient.
4) Given your business expertise and the nature of what you do, what advice would you offer the residents?
Mostly, what I'd tell people is simple: your outdoor space will look as good as the effort that's put into it. Just like your home.
Also, if you're going to hire a service make sure that they can offer you everything: this keeps your landscape looking consistent. For instance we do it all: lawn mowing, fertilization programs, landscape maintenance, mulching, landscape design and installation, hardscaping (patios, walkways, retaining walls, etc), turf renovation, overseeding, aeration, grading and sod installation.
For more tips on landscaping you can check out our Facebook business page: www.facebook.com/PropertyServicesLandscape
5) What else should we know about you, your family or your business?
I take great pride in the service I offer my customers; some, of which, I have been working with for over twenty years. I look forward to Property Services Landscape continued presence in this community, which I love.