Lawn Mowing Services
The value of Lawn Mowing Services
Maintaining your lawn not only helps in protecting the value, and appearance, of your home, but can also help to reduce costs over time. Keeping your yard grass trimmed to a proper height helps to reduce annoying weeds that can eventually overtake a lawn. Addressing, and fixing, weed problems can add extra expense of home ownership. Haring a lawn mowing service to attend to your yard on a regular basis can keep your home looking the best it can, while reducing your long term costs.
This especially comes into play when weeds overtake places on your lawn. Unwanted plant life can eventually create open or brown spots which push out the healthy grasses you seek. Regular attention paid to these lawn problem areas will keep problem, and potential costs on check.
Mowing or Grounds Maintenance service includes mowing the lawn using professional-grade equipment, trimming and / or "weedeating," edging of all sidewalks and curbs and cleanup or "blowing" when the job is done. Our standard grounds maintenance program includes 30 cuts (April 1 – October 30) which can be billed in ten installments or on a "pay as you go" basis.
Landscape Design Services
Get the most from your Landscaping Service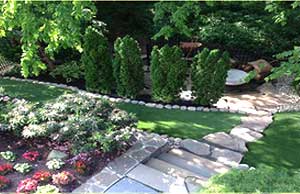 Protecting and increasing the value of your home can be accomplished by adding attractive landscaping components such as flower beds and mulched areas around trees and features. These landscape design components can increase the beauty, and value, of a home when done by the professional designers at Property Services Landscape.
Picture winding flower beds meandering throughout your property. Complete with edging and fresh plants, it can add a whole new dimension to your home. The street appeal of your home will not only impress your neighbors, but make you happy as well. Trees and shrubs can introduce shaded areas while introducing a more stately look. A professional landscape design team will keep your yard looking the best that it can possibly can for many years to come.
In order to maintain your property, it's important to stay on top of weeds and pruning throughout the growing season, so we recommend landscape maintenance be performed 12-15 times from April – October. This service includes weeding, pruning at the appropriate times, spraying Roundup under some circumstances and making sure all planting beds maintain a manicured appearance.
Hardscape Design & Installation
Professional hardscape design Improvements for your Loudoun home.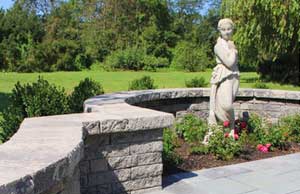 Hardscape Design is another service offered by Property Services Landscaping. We offer a wide selection of materials, and installation of patios, walkways and retaining walls. From pavers to flagstone to bricks or fieldstone, we are your source for professionally installed hardscapes that will beautify and help you enjoy your outdoor living space. Our relationship with Nicolock provides you with the highest quality pavers, stones and landscaping building materials available.
Imagine the back yard of your northern Virginia home with a new paver patio, surrounded with beautiful flowers that bloom all summer long. Encase portions of the yard with retaining walls that enclose trees in order to create a paradise on your own property. This lasting back yard installment with be enjoyed maintenance free for many years to come. When done properly, these home accents will help to retain the value and visual appeal of your property. You can count on the hardscape design professionals of Property Services Landscape to design and install the yard of your dreams.
Turf Renovation & Aeration
Properly aerated and seeded lawns make a home look beautiful.
Performed in September along with Round 4, turf fertilization & aeration relieves compaction in the lawn and makes it easier for water and nutrients to penetrate the ground and reach your lawn's roots.Over time, the tough, clay-ridden, yards of northern Virginia can block water from feeding young grass roots. We recommend having your lawn aerated every fall and in spring as well if the lawn gets a lot of foot traffic.
Overseeding – When done immediately after aeration, overseeding can help fill in bare spots in the lawn and keep it thick and healthy. De-thatching and thatch removal – The de-thatcher removes thatch that has accumulated in the lawn over the course of the mowing season and also further prepares the soil for overseeding. We recommend having the lawn de-thatched at least once every two years.
We offer Lawn our lawncare and landscape services throughout Loudoun County, Virginia. This is includes Upperville, Leesburg, Lansdowne, Ashburn, Hillsboro, Lansdowne, Purcellville, Hamilton, Aldie, Bluemont, Broadlands,  Lincoln, Lovettsville, Middleburg, Philomont, Round Hill, and Waterford.